Ronco Pasta Maker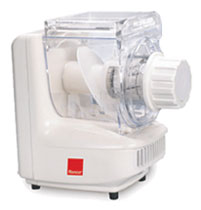 With the Ronco Electric Pasta Maker from Ron Popeil, you can make your own pasta from your home. It is both healthy and economical.
This incredible machine is the is the best-selling pasta machine in the world. You too can join fancy restaurant chefs and expensive delis by making your pasta to your own specifications.
Once you've tasted fresh homemade pasta, you'll never want to go back to the dried and store bought pasta ever again.
With the Ronco Electric Pasta Maker, you can make standard recipes or try audacious new gourmet pastas whenever you like.
It is quick and easy to use. You'll have fresh pasta in 5 minutes or less. Just select the shape you want, then add water or juice to any type of flour.
The machine automatically mixes and kneads the ingredients and will extrude fresh pasta.
It comes with 12 different pasta dies that automatically shape fresh pasta. There are also dies for cookies and small bagels.
Right now with this special offer, you'll also get the Sausage Making Attachment to make fresh sausages with your machine.
You'll also get an assortment of accessories that includes a liquid & dry measuring cup, pasta fork, die pick, sausage horn, an instructional DVD and the Pasta and Sausage Recipe Book.
Get the Flash Player to see this player.
Order the Ronco Pasta Maker now for only 4 easy payments of $29.95 plus S&H or 1 easy payment of $119.80.
With your order, you can also get 1 free bonus gift. Choose from the Veg-O-Matic, the Grillwave or the Pocket Fisherman. Just pay shipping and handling.