Perfect Brownie Pan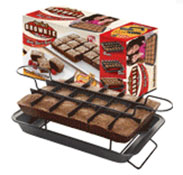 With the amazing Perfect Brownie Pan you can get perfectly baked brownies every single time.
It is simple and easy to use. You just pour the batter into the pan and then place the divider in before baking.
The rack aids in cooling and removal, giving you perfect brownies that you love.
The patented design of the Perfect Brownie Baking Pan has a non-stick surface and dividers to make perfectly square brownies every time.
Plus it also cooks each piece separately so they are flaky and crispy on the outside while rich and gooey on the inside.
The non-stick divider and pan also makes clean up a breeze. Even melted marshmallow treats won't stick on.
The pan can also be used without the divider, as a regular baking pan. It is also great for snack cakes, cornbread, cereal treats and more.
Get the Flash Player to see this player.
Right now when you purchase the Perfect Brownie Pan for $19.99 plus shipping and handling, you also receive a Gooey & Chewy Recipe Booklet and 10 Premium Decoration Stencils for free.