Pasta n' More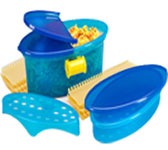 Pasta n' More is the revolutionary 5 in 1 microwavable pasta cooker. It's unique design ensures your pasta is cooked at just the right temperature.
It is made of quality certified materials and fits in any microwave. You can clean it in the dishwasher dishwasher. Pasta n' More can make from a dinner for 1 to a family of 9.
The unique design swirls the water and not the pasta, so it quickly cooks it to a perfect al texture. The handles on Pasta n' More can also be used for measuring, so you'll always prepare the perfect amount every time.
 Plus it comes with a steam rack that allows you to make baked potatoes, healthy vegetables, flaky fish, and much more.
The special lid design allows you to drain with ease. You'll also receive the air-tight storage lid to keep left-over's fresh and is perfect for saving, storing or reheating meals quickly.
Get the Flash Player to see this player.
You can order Pasta n' More for just $19.99 plus shipping and handling. You'll also receive a free recipe cookbook plus a free set of color coded knives.
Update: The Pasta n' More has been replaced by the newer Pasta Boat