Pasta Boat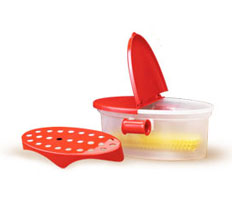 The Pasta Boat is the pasta maker that lets you cook, strain and serve perfect pasta using just your microwave. It is a microwaveable pot that makes making pasta dishes fast and easy.
You no longer have to worry about boiling water or using multiple pots anymore.  The Pasta Boat can cook, drain, serve and store meals, all in one pot.
Use it to make all kinds of pasta, whether it is Penne, Rigatoni, Macaroni, or Shells. It is also works great for stuffed pasta or lasagna.
The handles lets you measure out the perfect portion of pasta every time. The Pasta Boat is designed to redistributes heat evenly in order to fast, easy and perfect cooking.
Once the pasta is done, the included strainer lid makes straining a breeze. Plus the Pasta Boat stores leftovers in the same container, all you have to do is just put it in the fridge.
Get the Flash Player to see this player.
Normally the Pasta Boat with the Stay Cool Handles, the Staining Lids, the Steam Rack, and the Recipe book costs $10 plus shipping and handling but right now with this double offer you'll get twice as much for the same price.
This means you'll receive a total of 2 Pasta Boats, 2 Strainer Lids, 2 Steam Racks,  and 2 Recipe Guides for just $10 plus shipping and handling. But there's more because as a bonus you'll also receive a free Food Chopper with your order. You just have to pay the extra shipping for the second set.