Big Boss Grill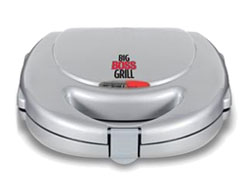 Simpifly your kitchen with the Big Boss Grill, the amazing all-in-one countertop appliance.
It can be used as a grill, griddle, waffle maker, omelet pan, donut maker, sandwich maker and more.
The Big Boss Grill will make cooking any meal for you and your family quicker, cleaner, and easier.
It comes with interchangeable non-stick plates that allows you to easily cook what you want. These removable plates are dishwasher-safe for easily cleaning.
The Big Boss Grill has dual cooking surfaces that cooks both sides evenly at once. This allows your meals to be ready in half the time.
The Big Boss Grill comes with:
2 Grill Plates
2 Griddle Plates
2 Waffle Plates
2 Sandwich Plates
2 Doughnut Plates
2 Omelet Plates
Recipe Book
Plate Storage Rack
Get the Flash Player to see this player.
The Big Boss Grill normally sells for 4 payments of $19.95 plus the cost of shipping and handling. But right now it is only 3 payments of $19.95 plus shipping.
But there's more. You'll  also receive a free Big Boss Chopper food processor with your order. You just have to pay the additional shipping cost.