Wuggle Pets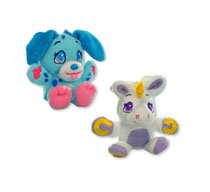 The Wuggle Pets are the cute and adorable stuffed animals which kids bring to life themselves. They are fun-filled animals that kids can create, collect and trade.
You build the Wuggle Pets by using the included Fill Factory to the soft and fluffy stuffing and magic sprinkle. Just crank the factory and the pet will be brought to life.
To make sure the fluff doesn't fall out there's a crafty zipper tool to help zip up your Wuggle Pet. Now there ready to be played with and hugged.
Each pet even comes with its own Birth Certificate so kids can fill them out and name after building their very own Wuggle Pet.
There's currently 8 different Wuggle Pets that are available, including a Cuddly Puppy, Magical Unicorn, Funny Monkey, Clever Raccoon, Bashful Bear, Playful Pony and more. Each Wuggle Pets is authenticated by a tiny "birthmark" on their ear.
With the optional voice box you can even make the Wuggle Pets talk. Just record your own message and place it inside the Wuggle Pet.
Get the Flash Player to see this player.
You can order the Wuggle Pets Starter Pack for just $19.99 plus shipping and handling. It includes the Cuddly Puppy and the Magical Unicorn Wuggle Pets along with the Fun Filled Factory, 2 Bags of Fluffy Stuffing, 12 Personality Charms, 2 Bags of Magic Dust, 2 Birth Certificates and a Zipper-Up Tool.
Or get the Wuggle Pets Party Pack all all 8 Wuggle Pets for $49.99 plus shipping and handling. It is great for birthdays, holidays, family activities, and other special events.