Happy Nappers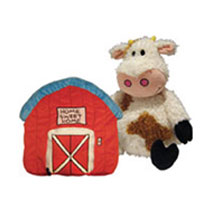 Presenting the Happy Nappers Perfect Play Pillow. They are the play pillows that can magically reverse from their home sweet home to a stuffed animal.
All you have to do is unzip the magical door to wake them and then take them out to transform your Happy Napper pillow into a full 21″ play pal.
When you're done playing with the Happy Napper, just kiss them good night and return them back to their Home Sweet Home and it's a pillow again.
Happy Nappers are great for kids whether it is for traveling sleep overs, just playing or for happy napping. They'll make an excellent Christmas or birthday present.
There are currently six different Happy Nappers available, each with their own special home. Plus they each make their own unique noise when you ring their sleepy sound doorbell.
You can choose from the Barn to Cow, Castle to Dragon, Bungalow to Ladybug, Igloo to Penguin, Dog House to Dog, or the Palace to Unicorn.
Get the Flash Player to see this player.
Each Happy Nappers sells for $19.99 plus shipping and handling. Order more than one Happy Napper at once and the additional ones are just $14.99 plus shipping. If you get all six Happy Nappers, you'll get free shipping on your order.
A portion of the proceeds from each Happy Napper sold is donated to the Home Sweet Home Fund, which benefits the Children's Brain Tumor Foundation.