Fab Effex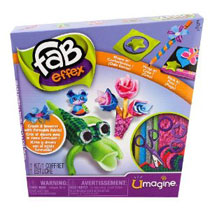 Fab Effex is the new building toy for children which feels like fabric, molds like clay, sticks like glue, and can easily lift away.
It is the fabulous and formidable fabric which lets kids create and decorate whatever they choose. The possibilities are endless.
The super fabric material is bendable, moldable, reusable, and magically sticks together. You can use them over and over again to create new and exciting designs.
The secret behind Fab Effex is a special wax layer that lets it hold its shape and stick to itself, walls, windows and just about anything else.
You can use Fab Effex to create almost anything you can dream up of. Make animals, flowers, crazy patterns, fashions for your dolls and more.
Or use Fab Effex to decorate and personalize your room, notebooks, skateboard, laptop and more. There's no mess and no glue involved. Plus you can undo them anytime you want.
Get the Flash Player to see this player.
The Fab Effex Variety Pack comes the largest assortment of patterns, textures and shapes available. You can order for $19.99 plus shipping and handling.
It includes 140 Pre-Cut Shapes, 6 Full Fab Effex Sheets, 2 Bonus Sheets, 2 Premium Fab Effex Fabric, 3 Hand Mold Shapes, an Animal Form, 2 Accessories, a Pair of Scissors, a Blank Card and an Idea Book.