Switch N Light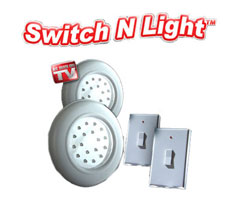 With the amazing Switch N Light you can get light wherever you need it and the switch where you can reach it.
It is an expandable, battery operated, switch activated light system. There are no wiring and no tools required, meaning no mess.
You can place the lights in the Switch N Light system anywhere you want. They can be hung with hook and loop for easy removal or be screw mounted.
There are no costly wiring needed with Switch N Light because they are battery powered.  The light is powered by 4 AA batteries while the remote control switch uses a 12 volt battery that is included.
The remote control looks like a regular switch and can also be attached with hook and loop or screw mounted. A single remote can handle up to 4 or more lights within a 20 foot range and can even go through walls.
Get the Flash Player to see this player.
The Switch N Light system includes a Wireless Light, a Remote Control Switch, 2 Velcro Fasteners and a 12 volt battery. It costs $19.95 plus shipping and handling.
You can also take advantage of a buy 1 get 1 free offer and get a second Switch N Light system for free. You just have to pay the additional shipping for it.