Soap Magic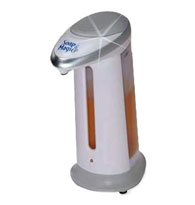 Soap Magic is the amazing soap dispenser that gives you the perfect amount every single time you use it.
Using the latest motion sensor technology, it works like magic. Just place your hand under it and the perfect amount of amount will comes up.
Soap Magic will work with all kinds of liquid soaps, lotions, shampoos, hand sanitizers, and more.
With bar soaps you can transfer the germs from hands to it. The same applies to regular soap dispensers when you touch it with dirty hands.
But the Soap Magic dispenser will stay germ-free because your hands never has to come in contact with it.
Use the Soap Magic and applying body lotion and moisturizers is a breeze. You can save time and don't have to apply one single pump at a time.
Get the Flash Player to see this player.
Normally a single Soap Magic is $19.99 plus shipping and handling but right now there is a buy 1 get 1 free offer. You'll get a second Soap Magic for free, just pay the additional shipping and handling.