Smart Night Light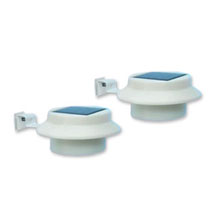 The Smart Night Light is the most versatile and portable solar powered light available. There are no wires, cords, or batteries involved.
Plus it is simple and easy to install. You don't have to drill any holes without drilling or holes. All you have to do is simply clip it where there is sun light.
The Smart Night Light will absorb and convert energy from the sun to solar power which is then store for later use.
When it gets dark, the Smart Night Light will automatically turn on by itself with no programming or timers required. Plus there is also a flip switch that lets you turn it on or off whenever you like.
The light from the Smart Night Light is so powerful you can see it for more than one mile away. It is perfect for gutters, walkways, fences, buildings and more.
Get the Flash Player to see this player.
Normally a single Smart Night Light costs $14.95 each plus shipping and handling. However there is a buy 1 get 1 free offer that is available.
You well receive a second Smart Night Light for free. You just have to pay the additional shipping and handling cost for it.