Quik Brites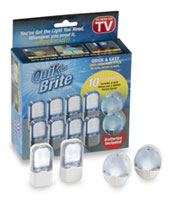 With Quik Brites, you've got the light you need, wherever you need it, automatically.
They are quick and easy to install. No nails, screws or bolts are necessary for installation.
All you have to do is just peel and place the Quik Brite where you need it.
Quik Brites are perfect for cabinets, in drawers, or as spotlights. They go on automatically when you open and off when you close.
Also, Quik Brites LEDs are guaranteed for life that they will never burn out.
Get the Flash Player to see this player.
Order a set of 4 Quik Brites for $14.99 plus shipping and handling and you'll receive another set of 4 for free.
But that's not all. You'll also get 2 tap-on SwivelSpots free as well.