Relaxium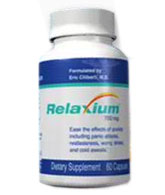 Escape stress and relax yourself with Relaxium. It is the supplement that will help reduce worry, fear, stress, anxiety and panic attacks.
Relaxium contains a safe and natural formula that will reduce anxiety and balance your mood without the side effects of prescription medication.
It works by helping restore your body's levels of serotonin to a healthy, balanced level so that life looks positive again.
Studies have shown that anxiety is often caused by a serotonin deficiency. Also the specialized blend includes an ingredient that has demonstrated the ability to minimize stress-related symptoms in clinical studies.
Relaxium will go to work almost immediately so that you'll experience positive results right away. With Relaxium, you can elevate your mood and diminish anxiety.
Get the Flash Player to see this player.
You can order a single bottle of Relaxium, a one month supply, for just $39.99 plus the cost of shipping and handling. Or take advantage of a buy 2 get 1 free offer and get 3 total bottles for just $59.98 plus shipping and handling.
Update: This offer has expired