NoNo Hair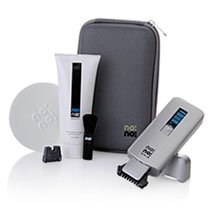 The original NoNo hair remover has already sold well over 1.5 million units and now there is a new and improved version available.
It features a slimmer and sleeker design that gives you more flexibility. Plus it also has a new LCD status screen that shows you when you need to replace the Thermicon Tips and how much charge is left in the battery.
The new NoNo Hair also features adjustable treatment levels because some areas of the body may be more sensitive than others.
Just like the original NoNo, it provides completely pain free hair removal. You can use it on all skin and hair types and it delivers up to 94% hair reduction.
The more you use NoNo the longer it takes for hair to grow back over time. The hair will become much finer and thinner.
With the rechargeable battery, you get completely cord-free operation. Plus the new and improved Thermicon Tips now last up to 4 times longer than before.
Get the Flash Player to see this player.
The new NoNo Hair is available in a variety of different colors. You can choose from either Silver, Pink, Black, and for a limited time Holiday Red.
Each one includes a set of accessories. You'll get a Power Supply for charging, Thermicon Tip for legs and arms, Thermicon Tip for delicate areas including your face, Large Buffer to exfoliate your skin, a Smooth Lotion, an Instructional CD, Quick Start Guide, Cleaning Brush, and a Deluxe Travel Case for taking the NoNo with you while you travel.
You can order the NoNo Hair for  3 monthly payments of $89.95 plus the cost of shipping and handling. It comes with a full 60 day money back guarantee.