Neckline Slimmer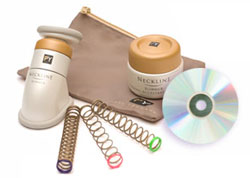 With the Neckline Slimmer from Paul Younane, you can reverse the effects of aging without cosmetic surgery.
It is the world's first resistance toning system for the neck, chin and face. In just 2 minutes a day you can have dramatic results.
Neckline Slimmer will give your face a lift resulting in tighter and firmer skin. It eliminates sagging skin and can reduce a double-chin or neck folds.
It does for your neckline what exercise does for your body, making you look and feel younger.
The Neckline Slimmer was developed by world-renowned physiotherapist Paul Younane as a system that tightens the muscles to keep your face and neck looking young and beautiful.
Get the Flash Player to see this player.
Order the Neckline Slimmer now for just $19.99 plus shipping and handling. It includes three levels of resistance springs.
In addition, you well also receive a free bonus kit worth $40. It comes with a Carrying Bag, an Instructional Training DVD and Paul Younane's European Firming Accelerator Cream.