MaxiLift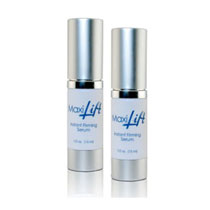 The MaxiLift Instant Firming Serum is an instant wrinkle concealer brought to you by BioLogic Solutions. It is designed to dramatically decrease the appearance of wrinkles almost instantly.
The formula works in as little as 2 minutes or less. When applied, MaxiLift starts to firm up your skin and diminish the appearance of wrinkles so you can look up to years younger.
MaxiLift can temporarily reduce the appearance wrinkles by an average of 53%. For some individuals it reduced the appearance of wrinkles as much as 98%.
Just apply MaxiLift under your makeup or with no makeup. Your wrinkles and age lines will disappear, literally, right before from your eyes. After 2 minutes you can now apply your makeup.
A single application of MaxiLift lasts  between 6 to 8 hours. So you can go out all day or all night looking younger. Since it is 100% invisible, no one will know how you did it.
The MaxiLift Instant Firming Serum is dermatologist recommended. One of which is Dr. Jason Wilder, a board certified dermatologist. He recommends MaxiLift to his patients who want dramatic temporary results but also want to avoid injections and invasive procedures.
Get the Flash Player to see this player.
A single bottle of MaxiLift lasts for 30 days and sells for $29.95 plus shipping and handling. But now there is a buy 1 get 1 free offer where you'll get a second bottle of MaxiLift for free.
The second bottle is absolutely free. You don't have to pay any additional shipping and handling fees or any other fees of any kind. MaxiLift also comes with a our 60-day money back guarantee.