Magna Nails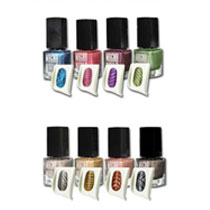 With the Magna Nails magnetic nail polish you get the same runway look and transform your nails into works of art. It gives you professional results which looks like they were done at the salon.
Except you won't have to spend a fortune. Magna Nails lets you easily create stunning metallic nail designs and patterns right from home and at just a fraction of the cost.
It uses the power of science in order to instantly create nail patterns that stand out. You can create a set of 16 different looks for your finger nails or toe nails from each Magna Nails collection.
First select a color and apply a generous coat to your nail. Next pick a Magna Nail Design Magnet with the pattern you want and just hold it over the nail. In just seconds the pattern will appear right before your eyes.
Magna Nail's secret is inside the salon quality magnetic formula when contains special particles. These particles become magnetized and shifts when a magnet is held over in order to create the pattern instantly.
The 4 different Design Magnets can create swerves, waves, diagonals, and stripes. The magnetic nail polish and Design Magnets works on both natural and artificial nails.
Get the Flash Player to see this player.
The Magna Nails Gemstone Collection contains 4 Design Magnets and 4 shades with Green Emerald, Blue Sapphire, Purple Amethyst and Rose Quartz. It sells for $14.95 plus shipping and handling.
Plus right now you can also have the option of adding the Magna Nails Metallic Collection to your order for free just by paying a separate shipping and handling fee. It includes 4 additional different Design Magnets and 4 additional shades with Titanium, Silver, Copper, and Gold.