Derm Exclusive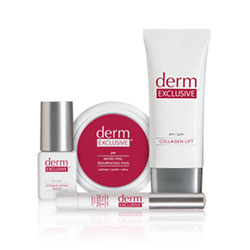 Get real and noticeable anti-aging results with the Derm Exclusive skin care system. It is a comprehensive skin care solution designed to treat all 4 visible signs of aging.
So it is like having the benefits of four different professional anti-aging treatments in one system. Derm Exclusive features a powerful peptide combination developed by Dr Orton, Plastic Surgery Expert from  the TV show The Doctors, called Fill & Freeze.
Fill & Freeze utilizes a powerful combination of highly effective peptides which helps relax the skin's "crease memory" while also gently smoothing out wrinkles and fine lines. The result is smoother, younger, and more radiant looking skin.
Each product in the Derm Exclusive skin care system is formulated for  maximum effectiveness and contains ingredients such as professional-grade peptides, natural enzymes, antioxidants, and other state-of-the-art ingredients.
Together they help address and reverse the 4 major signs of aging skin. This includes:
Instantly smoothing the appearance of fine lines and wrinkles.
Fading age spots and evening out skin tone
Firming and lifting sagging, tired-looking skin
Improving the skin's radiance
The standard Derm Exclusive Collection includes a Fill & Freeze Wrinkle Treatment,  Micro Peel Resurfacing Pads, Intensive Repair Serum, and Collagen Lift.
The Fill & Freeze Wrinkle Treatment is like a magic anti-aging wand designed to produce immediate results. It instantly plump fine lines and wrinkles while reducing the appearance of dark circles.
The Micro Peel Resurfacing Pads are used to exfoliate way dead cells and shrinks the appearance of pores to reveal smoother skin. They are formulated for maximum effectiveness and minimal irritation.
The Intensive Repair Serum has a lightweight but powerful formula for treating dark spots and uneven texture. It also helps the skin speed recovery from past damage and restore luminosity.
The Collagen Lift helps the boost the skin's natural collagen production for a more firm, lifted appearance with less wrinkles.
Get the Flash Player to see this player.
The Derm Exclusive Introductory Collection with a 30 day supply of the 4 products sells for $39.95 plus the cost of shipping and handling. Currently as special bonus you receive a second Fill & Freeze Wrinkle Treatment pen for free with the order.
You can also get the Derm Exclusive Advanced Collection which includes a 90 day supply of the 4 products for 3 payments of $39.95 plus free shipping and handling. Plus it comes with a second Fill & Freeze Wrinkle Treatment pen and a Travel Bag for free.