Roto Shave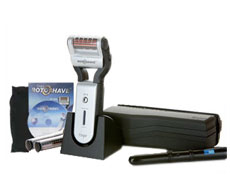 The Roto Shave is the world's number one electric razor. It gets closer and gives you faster and smoother shaves than other razors.
With the Roto Shaver you get closeness of the best wet shave with the convenience and power of an electric razor.
It features an advanced multi-angle cartridge that has 9 of the sharpest blades for a close shave every time.
Your skin will contour around the head of the curve of the shaver head so that hair is at an 90 degree angle, giving optimal hair cutting.
Plus the Roto Shave has a high speed motor for a closer, cleaner, faster, and smoother shave than ever before and in less than 90 seconds.
Get the Flash Player to see this player.
The Roto Shaver system includes RotoShave Electric Shaver, 2 cartridges featuring 9 blades, a travel case,  and a demonstration DVD.
With this special offer you can get the Roto Shave for just $19.99 plus shipping and handling. As a special bonus you can also receive a free TrimMen Personal Grooming Kit with your order. All you have to do is pay the extra shipping for it.