no!no! Hair Remover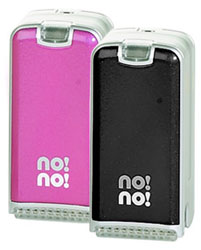 NoNo is the hottest concept in hair removal and was named Instyle's 2008 Beauty Breakthrough.
You can easily and conveniently remove hair and slow down their growth by simply gliding the NoNo over your skin.
There's no pain, no nicks, no cuts, no mess, no sun sensitivty or any other inconveniences related to hair removal.
Using NoNo is as easy as 1, 2, 3. You first insert a thermicon tip for either long or short hair. Then just glide NoNo over your skin. Then use the patented buffer to exfoliate your skin while it buffs away crystallized hair, leaving your skin soft and smooth.
The secret behind NoNo it the patented Thermicon technology. It sends a thermal signal to the root which disrupts and slows down hair growth.
In a clinical study, NoNo has been shown to provide up to a 64% reduction in hair growth.
Get the Flash Player to see this player.
This NoNo system comes with the no!no! Hair Remover,  a Buffer, 3 Blade, an instructional DVD and a free 4 oz bottle of no!no! Smooth. It costs $199.95 and comes with free shipping.
Or you can take advantage of a special free trial offer and try NoNo for 30 days, just pay $19.95 for shipping and handling.
Update: The original NoNo has been replaced by the new NoNo Hair