Hair Block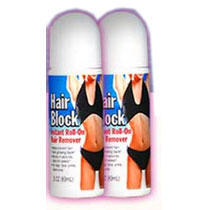 Hair Block is the instant roll-on hair remover that works in just seconds and delivers results that will last for weeks.
It is the safe, simple, and quick solution to remove unwanted hair from your legs, face, arms, bikini area and more.
You can get rid of unsightly hair and keep them from coming back for weeks with Hair Block.
It is completely pain free and much more convenient  then other hair removal methods. There are no more messy, smelly creams or harsh razors, painful tweezing, and hot wax treatments.
With Hair Block all you do is roll it on and then just wipe or rinse hair away. It is formulated to eliminate hair from their roots so there's no stubble. It works great for both men and women.
Get the Flash Player to see this player.
Normally a single bottle of Hair Block costs $19.99 plus shipping and handling but right now there is a buy 1 get 1 free offer available.  You'll get a second bottle of Hair Block free for paying the additional shipping cost.
Update: This offer has expired