Gyro Bowl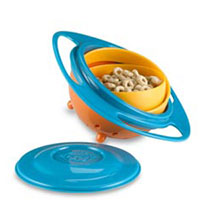 It is normal for kids to spill stuff and that is why you need the Gyro Bowl. It is the world's first ever spill proof bowl for children.
With the Gyro Bowl you can spin and spin it while the stuff inside will still stay in. You no longer have to worry about your child spilling food when they eat.
It is 100% kid proof  and the Gyro Bowl will stay open side up no matter how a child flips or rotates it.
The secret behind the product is the inner bowl that is able to rotate 360 degrees. Even if a kid flips it over, the inner bowl will rotate to keep the food safely inside.
The Gyro Bowl is built so that it is virtually indestructible. Plus it is also dishwasher safe for easy cleaning.
Aside for holding snacks for kids, the Gyro Bowl also has other great storage uses. You can use it to store coins, paper clips, push pins, and much more.
Get the Flash Player to see this player.
Normally a single Gyro Bowl with a stay-fresh lid sells for $14.99 plus shipping and handling. However there is currently a buy 1 get 1 free offer that is available.
You'll receive a second Gyro Bowl for free. That's a total of 2 Gyro Bowls for only $14.99 plus the cost of shipping and handling.