Total Flex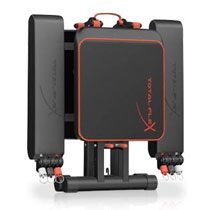 Now you can shed pounds, get lean and build your muscles at home with the Total Flex. It is a ultra-compact home gym solution that gives you over 50 different gym exercises.
When folded up it is around the size of a briefcase and won't take up space or get in the way like other bulky home gym systems.
The Total Flex comes already fully assembled and you can unfold it in just seconds and start working out from the comfort and convenience of your home.
With the Total Flex you work out from a safe, comfortable position. You just squeeze the locking pins to change the seat position for different workouts.
The Total Flex can be used as a flat bench to build the chest and back, an inclined bench to target the abs,  a lower body workout machine to tone the buns and thighs, and more.
People of all fitness levels can use the Total Flex since it offers different resistance levels. To increase the intensity, you just hook a different band or hook on more than one at a time.
Get the Flash Player to see this player.
The Total Flex system comes with the Total Flex, a set of ankle straps, a grip handle set, a wall chart, and an instruction manual.
It also comes with a Workout DVD with Kim Lyon. It includes a total of 6 different workouts that will get your body into shape.
You can order the Total Flex for $249.75 plus shipping and handling. You can also take advantage of a trial offer and try Total Flex for 30 days first by paying $14.95 plus shipping before deciding if you want to keep it.