The Flex Belt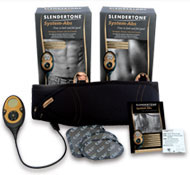 With the Flex Belt you can tone, tighten, firm and strengthen without the need for any workouts.
It is the only abdominal toning system that has been cleared by the FDA for toning, firming and strengthening the stomach muscles.
The Flex Belt is made with medical grade toning technology that works for both men and women.
It is clinically demonstrated to produce results in just weeks. In a 6 week study, 100% of participants reported having abs that felt firmer and more toned.
With the Flex Belt, you can train your abs even if you're too busy or too tired for a traditional workout.
You just slip on the comfortable toning belts and the patented medical grade technology will stimulate the nerves that make your muscles contract and relax.
As a result, you will get an effective abdominal workout that targets all the muscles in your abdomen in just 30 minutes a day.
The secret behind the Flex Belt is its patented EMS muscle stimulation technology. This is the same technology used by physical therapists to exercise the muscles of their patients who can't do it as effectively for themselves.
Get the Flash Player to see this player.
You can order the Flext Belt for a payment of $99.99 plus shipping and handling, followed by 2 additional payments of $49.99. Or just make a single payment of $199 and get free shipping.
The Flex Belt Ab Toning System comes with the Flex Belt, Gel Pads, Rechargeable Power Supply, Belt Extension, an Instruction Manual, and free 30 days access to the Flex Belt Meal Planner.