Chest Magic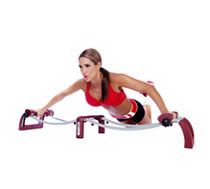 The Chest Magic lets you work out your entire upper body in just minutes a day. You'll be able to add size and definition quicker and faster than before.
You can work out your biceps, triceps, shoulders, chest, back, and arms with just one device thanks to the unique U-shaped design and sliding motion.
Using the Chest Magic is like doing 4 different workouts at once, so you can get results faster and with less work.
Jennifer Nicole Lee's innovative chest sculpting program for the Chest Magic will help you lift and tone your chest and upper body without causing any strain.
The Chest Magic is great for both men and women and individuals of all fitness levels. It features an adjustable resistance levels you can increase as you get into better shape.
Plus the Chest Magic takes up very little space compared to other bulky exercise equipment. When you are not using you can just fold it up flat to store it.
Get the Flash Player to see this player.
The Chest Magic sells for $99.95 plus shipping and handling. It comes with a free Workout Chart, Express Workout DVD with Jennifer Nicole Lee, and a Nutrition Guide.
You can also take advantage of a trial offer and try the Chest Magic first for 30 days at home by paying $14.95 plus shipping and handling. If you decide to keep it after 30 days, it is 3 payments of $29.95.