Cardio Twister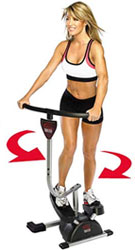 With the Cardio Twister, you can get fit with a whole new twist. It is a great way to work your entire body with just a single machine.
The bi-directional motion of the Cardio Twister will work out the upper body, the back, shoulders , abs and obliques.
Over 20 different core muscles will be getting a great workout at the same time with the Cardio Twister.
The Cardio Twister was created by Brenda Dygraf, a U.S. Aerobic Champion and a world-renowned fitness expert. She created Cardio Twister as an exercise breakthrough that can help burn fat, firm and sculpt the body, and produce flatter, tighter abs, all at the same time.
With regular steppers you would just move up and down. But with the innovative CardioTwister System, the advanced dual-drive gearbox has powerful bi-directional stepping.
It moves you up and down and in and out. Combine that with the upper body twisting action and you'll be able to tighten your entire core.
Get the Flash Player to see this player.
The Cardio Twister Package includes the Cardio Twister, a workout DVD, the Rapid Start Diet Plan, and the Thin, Trim, and Tasty Meal Plan
You can purchase the Cardio Twister for just one easy payment of $159.80. Or you can take advantage of a risk free trial offer and try the Cardio Twister for 30 days by just paying $14.95 for shipping and handling.
Update: This offer has expired