Butterfly Abs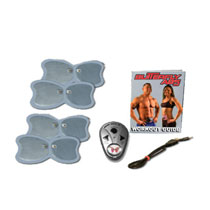 Butterfly Abs is an FDA cleared ab trainer that is designed to firm, tone, and strengthen your abs automatically. You can now get a great ab workout anytime and anywhere without breaking a sweat.
It uses soothing Electronic Muscle Stimulation (EMS) technology in order to target and exercises your abs for you.  You won't have to do endless crunches and sit ups in order to get more tone and better looking abs.
All you have to do is slip on Butterfly Abs so that it is centered around your abs area. The EMS technology will do the work for you by sending signals into your ab muscles which causes them to contract and relax, working them out for you automatically.
Butterfly Abs lets you tone and tigthen your abs even if you are normally too busy or tired for regular ab exercises. You can use Butterfly Abs while you are reading, watching TV, cooking, or doing other activities.
With 6 different workout programs and 10 intensity levels anyone from beginners to those already in great shape can benefit from using Butterfly Abs. The 6 different workouts includes Warm up/Beginner, Intermediate, General Toning, Advanced AbCruncher, Core Blaster, and Expert Iron Man.
You can start at the Warm up/Beginner program and work your way up to high intensity levels and programs as your abs becomes more toned over time. Plus theses also a massing program which feels like a deep tissue massage.
Unlike other ab toning belts that have cords which get in the way, Butterfly Abs is completely cordless. It is powered using a rechargable battery, which can be fully charged in approximately 1 hour. The toning pads are also reusable so you won't have to constantly replace them. Just rinse them off after using and you can reuse it again after it dries.
Get the Flash Player to see this player.
The Butterfly Abs system includes The Rechargeable EMS unit, 2 Reusable Toning Pads, and a USB charger. It sells for $39.99 plus the cost of shipping and handling.
As a current special bonus each order currently includes an additional 2 Reusable Toning Pads for free, for a total of 4 Toning Pads. Plus if you order two total Butterfly Abs systems you can also get free shipping and handling.