Barry's Bootcamp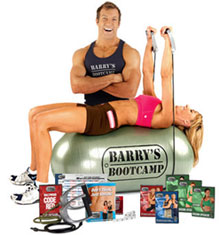 Bust your body into shape with Barry's Bootcamp, Hollywood's secret for a hot sexy body.
Developed by fitness expert Barry Jay, this system can burn fat up to 9 times faster than ordinary exercise.
Barry's uses a revolutionary exercise strategy that is combined with his patented raspy, drill-sergeant tactics and a fun atmosphere.
Barry's Bootcamp creates a a unique and irresistible workout environment that inspires and motivates you to push harder and get into great shape fast.
Barry's system is used by A-list celebrities that includes Katie Holmes, Jake Gyllenhaal, and Biggest Loser host Alison Sweeney.
Now Barry Jay brings his unique fat burning workouts and powerful energy to the convenience of your own home.
The complete Barry's Bootcamp kit comes with:
The Fat Blaster Lower and Upper Body Workouts
3 Targeted Mission Specialist Workouts – Abs, Upper Body and Lower Body
The Bootcamp Transformer and Pump
Barry's Patented Power Handles & 2 Burn and Firm Resistance Bands
Barry's "Don't Think, Just Shrink" Program Guide and 30 Day Step-by-Step Calendar
Get the Flash Player to see this player.
Everything included is valued at $250 but right now you can order Barry's Bootcamp for just $49.95 plus shipping and handling. As a special bonus  you'll also get Barry's Coder Red 6 Day Rapid Fire Weight Loss System for free with your order.