NV Diet Pill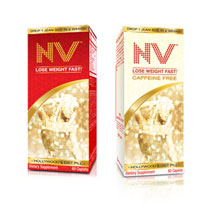 NV diet pills is the Hollywood celebrity diet secret that can help you drop as much as 1 jean size in only two weeks.
It is used and endorsed by model, actress and celebrity Holly Madison. She states that "Thanks to NV I dropped 1 jean size in just 2 weeks and got my body back. NV really works fast!"
With NV there's no need to starve yourself or drastically change your diet. You can still eat many of the foods that you love, including deserts.
All you have to do is take a total of 6 NV weight loss caplets each day. You take 3 caplets in the morning with a glass water along with your breakfast. Then around 6 hours later you take another 3 caplets with your lunch or a snack.
When used in conjunction with a reduced calorie diet and regular exercise, NV will help you lose weight, trim your waist line, and reshape your body so you can get your confidence back.
The main formula in NV is backed by two clinical studies. Both studies comprised a group of individuals who took the two key ingredients NV for two weeks and another group that took the placebo during the same period. The two groups both consumed around 2000 KCAL a day and did some mild exercise.
After the two weeks, the groups that took the two key ingredients in NV lose an average of 5.1 lbs and 4.0 lbs and reduced their waist line by 1.6″ and 1.7″. The placebo groups only lost 2.2 lbs and 1.2 lbs and their waist line only decreased by 0.1″ and 0.3″.
Get the Flash Player to see this player.
NV diet pills are available in the Original Formula and a Caffeine Free Formula. Each bottle sells for $29.95 and contains a total of 60 NV weight loss caplets.
Plus each order comes with a free Hollywood Weight Loss Guide. This guide shows how many of Hollywood's top models, actors and celebrities are able to lose pounds and inches without giving up the foods that they love.