Perfect Fit Button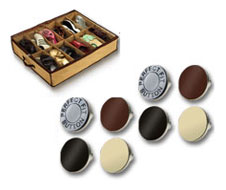 Now you can add or reduce inches on the waist band of your pants with the Perfect Fit Button.
It is the quickest and easiest solution when you're pants are too tight or too loose. 
Each Perfect Fit Button locks firmly in place so you can change the size of your clothing instantly and no one will ever know that you're wearing one.
Having the Perfect Fit Button is like having a custom tailor at your finger tips. It strong enough to work on denim, corduroy, suede, leather, and more.
Using the Perfect Fit Button can't be more simple. First you just attach the button.  Then apply the special lock fastener and your done.
Get the Flash Player to see this player.
A set of 4 Perfect Fit Button, which includes a button for Jeans, Khakis, Brown Plants and Black Pants, normally sells for $10 plus shipping and handling.
But right now there is a buy 1 get 1 free offer where you'll receive a second set of 4 Perfect Buttons. Just pay the additional shipping.
But wait, there's even more. You also receive a Shoes Under shoe organizer for free. That is a total value of $70 for just $10 plus shipping and handling.