HD Vision WrapArounds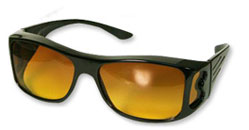 If you wear prescription glasses then you know that protecting your eyes from the sun can be a challenge. Clip-ons let light leak from the sides and prescription sunglasses can cost hundreds.
The perfect and affordable solution is here with the HD Vision WrapArounds. They wrap around your existing glasses to help protect your eyes.
The HD Vision lenses not only blocks out unwanted glare, they also help improve color and clarity and give you an enhanced vision like you've never seen before.
HD Vision WrapArounds are lightweight and durable. Plus they come in a sleek modern European style.
Get the Flash Player to see this player.
Right now when you purchase a pair of HD Vision WarpArounds for $19.99, you'll also receive a free visor clip for your car and a free pair of Night Vision WarpArounds.
They are perfect for helping you drive at night by cutting glare from car headlights and helping enhance the clarity of everything else.