Shark Rotator Lift Away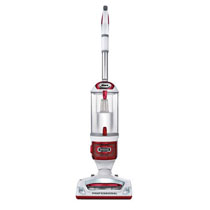 The Shark Rotator Lift Away is the latest version of the Shark series of upright Lift Away vacuum cleaners. It improves upon and adds new features to the already top selling Shark Navigator Lift Away.
For years Shark Lift Away vacuums have been providing the performance of more expensive household vacuum cleaners at a fraction of the price. The Shark Rotator is the best yet to date.
Like previous models it features No Loss Of Suction cleaning but now with even further enhanced suction power. No matter how long you vacuum and how much dust it has collected, it still delivers strong and consistent suction.
The Shark Rotator Lift Away performs great on any floor surface. It picks up all the dirt you can see and those you can't. The premium power nozzle and powerful suction can deep clean rugs and carpets to suck in all the dust trapped deep inside.
Plus when you vacuuming with the Shark Rotator you will also be cleaning the air at the same time. The combination of  the HEPA filter and a superior filtration system can capture and hold in over 99.9% of dust and allergens inside the vacuum. So they are completely removed from the air you breathe in.
The vacuum provides powerful suction but at the same time operates ultra-quiet. You won't disturb your entire household like with other noisy vacuums when you care cleaning.
In addition to the lightweight design, the Shark Rotator also features enhanced swivel steering. This gives superior maneuverability which lets you easily clean around furniture and tight corners.
Get the Flash Player to see this player.
You can also lift up the lightweight canister for portable cleaning. This makes it convenient for cleaning furniture, the stairs, or small, hard to reach areas around your home.
Other convenient features includes an extra-long stretch hose that lets you clean high or far away spaces. The power cord is an extra long 30 feet and the improved extra large capacity dust cup can holds more dirt than before.
The Shark Rotator Lift Away comes with a a set of cleaning tools and attachments for picking up pet hair and other cleaning purposes. It includes Premium Turbo Brush, a 11″ Crevice Tool, and a Dusting Brush.
You can order the Shark Rotator for $199.80 plus shipping and handling. As a special bonus you'll also receive Shark Steam Mop for absolutely free as part of this special offer.