Haan Multiforce Pro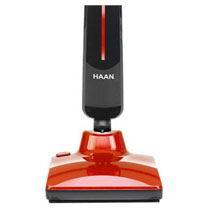 The Haan Multiforce Pro is a steam cleaner which can be used both indoors and outdoors. It includes a variety of attachments and settings which lets you handle different cleaning tasks on any surface.
You can steam clean any type of flooring indoors whether it is vinyl floors, tiles, hardwood surfaces, laminate, hardwood, marble or carpet. You can also clean outdoors areas such the porch, deck, garage, driveway, walkways, and other cement surfaces.
The Multiforce Pro is one of the most versatile steam cleaners available on the market since you can use it to deep clean, power scrub, buff, steam, and sanitize. It gives you the power of 5-in-1.
The Haan Multiforce Pro provides a powerful chemical-free cleaning solution that is 100% safe for pets and children. All you have to do is just add water and in under 40 seconds it is converted to a powerful continous steam that cleans, freshens and sanitizes.
Another exclusive feature of the Multiforce Pro is CR-Motion, which does the scrubbing for you. The bottom of the Multiforce features two counter-reciprocating steam plates move back and forth at a rate of 850 cycles per minute. As the steam is released the plates can also scrub the floors at the same time, so you no longer have to scrub manually.
Combined with the right attachment and CR-Motion can get rid of tough grime from laminate, polish luster back into hardwood floors, scrub deck boards clean, and even power scrub away dirt and grime on outdoor surfaces.
With the included carpet glide you can also clean your carpets as well. The steam cleaning power will freshen and deodorize carpeting while killing up to 99.9% of the bacteria, germs, and dust mites living inside.
Get the Flash Player to see this player.
The Haan Multiforce Pro Steam Cleaner comes with 2 sets of Ultra-Microfiber Cleaning Pads, 1 set of Buffing Pads, 1 set of Scrub Brush Attachments, the Carpet Glide, a Floor Protector/Resting Mat, and 12 Fresh rinse Lime & Scale Removers. Plus you'll also get 3 free bonus Microsham Towels with this current offer.
The Multiforce Pro sells for $239.95. Currently you can take advantage of a 30 day trial risk-free and try it in your home first by paying just $14.95 plus shipping and handling. If  you decide to keep it after the 30 day trial period, just make 4 monthly payments of $59.99. Or you could just directly purchase the Multiforce Pro for $239.95 and get free shipping and handling.