H2O Mop X5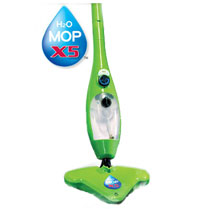 The all new H2O Mop X5 is the new and improved steam mop that is leaner and greener than before. It is an amazing 5 in 1 cleaning machine.
With the built-in portable steamer, not only can you thoroughly clean all your floors but you keep your entire house clean too.
The H2O Mop X5 can used on almost all floors surfaces. This includes marble, ceramic, stone, linoleum, sealed hardwood floor, parquet and more.
It deodorizes, sanitizes and cleans by converting water to steam. You now no longer have buy those chemical cleaners which can by harsh on your floors and also damage the environment in order to keep your floors clean.
When the H2O Mop X5 makes contact with floor surfaces, dirt and grime can be eliminated in just seconds. You can detach the steam generator from the base and now it is a powerful handheld steamer.
You can use it to cut through baked on oven mess, sanitize your kid's toys, steam clean your windows and also your garments. Attach the include Carpet Glider and it turns into a carpet steamer so you can steam clean your carpets.
Get the Flash Player to see this player.
The H2O Mop X5 sells for $119.85 and comes with free shipping and handling. You'll get the H2O Mop X5, Microfiber Floor Cloth, Carpet Glider along with an assortment of attahcments.
They include the Jet Nozzle Attachments, Extension Hose, Dusting and Polishing Wand, Windows Glass and Mirror Attachment, and the Garment and Upholstery Attachment.