Rejuvenate Auto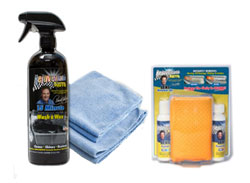 Rejuvenate Auto is the technologically advanced 15 minute car wash and wax system. It cleans, shines, and restore your car's finish.
It is the newest and most advanced way to clean and care for your vehicle while helping to conserve water.
The Rejuvenate Auto system is recommended and endorsed by Darrell Waltrip, a  three-time NASCAR Winston Cup champion.
The special space age formula sprays  away the worst dirt, bug residue, tree sap, bird droppings and more. Unlike other systems, no water is needed.
Plus Rejuventate Auto will  instant fills in swirl marks and minor scratches to make your car look new again.  It is safe for all finishes and will help protect your car from UV damage, salt, acid rain,  and staining.
Get the Flash Player to see this player.
The Rejuvenate Auto system normally cost $9.95 plus shipping and handling and comes with a 10 oz bottle of Rejuvenate Auto and 2 Microfiber Cleaning/Polishing Towels.
But right now with this special offer you also get 6 bonus microfiber towels plus an additional bottle of Rejuvenate Auto free. Just pay the additional shipping.
There's more though. This also offer also includes a free Auto Lens Renewer Kit. It helps makes your help lamps look brand new and is yours free if you pay the shipping.