Fast Brite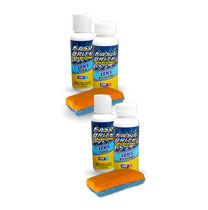 Driving around with yellow, hazy and blurry headlights can be dangerous. However having your car's headlights replaced is expensive.
Fast Brite Lens Restore is the low-cost alternative to expensive headlight replacement. It can help restore the shine to your car's headlights and make them clear again.
Over time the headlights on a car turn yellow and blurry because of oxidation. Driving with blurry headlights at night can be dangerous and can cause accidents.
Using Fast Brite you have a quick, easy, convenient and affordable solution for making your car's headlights clearer and brighter again. It only takes around you thirty seconds to polish your headlights.
First you just wipe on the Fast Brite Lens Polish formula with the included applicator sponge. Then you wipe it off and watch as your car's headlights become clearer. Afterwards wipe on the Fast Brite Lens Protectant and it will help prevent them from turning yellow and blurry again.
Fast Brite can help hazy and blurry headlights become as much as five times more translucent than before. You will be able to see farther and also more clearer at night so you can drive more safely.
The special professional formula used in the Fast Brite Len Polish is specially designed to remove the outer layer of oxidation that causes headlights to be yellow and blurry.
Get the Flash Player to see this player.
Each Fast Brite Lens Restore kit comes with a 2 oz bottle of the Fast Brite Lens Polish formula, a 2 oz bottle of the Fast Brite Lens Protectant formula, and an Applicator Sponge.
Usually a single Fast Brite kit sells for $10 plus shipping and processing. But with this current double offer, you can get a second kit for free by paying the additional shipping and processing for it.