AutoCerm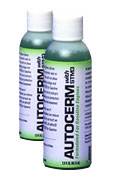 AutoCerm is a scientific breakthrough in engine performance technology. You can hear and feel the difference with just one treatment.
Since AutoCerm works with your engine and not the oil, that one treatment per vehicle is all you need to see dramatic and lasting improvement in your engine's efficiency.
It helps improve gas mileage, reduce wear, boost horsepower, torque and so much more.
The secret behind AutoCerm is its advanced ceramic engine technology. The auto industry has known for decades the incredible benefits of building an engine out of ceramic.
Unfortunately they are much too expensive to produce for consumer use. AutoCerm was made to provide many of the benefits of a ceramic engine in an affordable solution.
The unique chemical formula in AutoCerm safely embeds a micro-ceramic seal to all your engine's metal parts. The result is like having a ceramic engine at a small fraction of the cost.
AutoCerm works with all cars whether old or new, foreign or domestic, compact or SUV.
Get the Flash Player to see this player.
Right now with the current special offer, when you purchase a bottle of AutoCerm for $19.99, you'll recive a second bottle for free. Just pay additional shipping and handling costs.