Urine Gone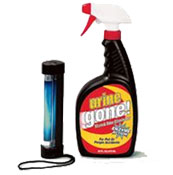 Urine Gone is the ultimate stain and odor remover with powerful Enzyme Action. It works fast to remove odors and stains caused by pets or accidents.
Unlike many other cleaners which only clean the surface, the Enzyme Action in Urine Gone gets to the source of the odor and gets rid of it for good.
Urine Gone can remove new or old stains and odors from carpets, mattresses, furniture, and more. It works on just about any washable surface or fabric, inside and out.
Get rid of all the embarrassing odor around the house that is caused by your pet.
Urine Gone comes with a Blacklight Stain Detector. It helps find old stains and invisible smells, allowing your house to smell clean and fresh again.
Get the Flash Player to see this player.
When your order Urine Gone now for $19.99 plus shipping and handling, you'll receive a jumbo sized 24 oz bottle of Urine Gone, the  Blacklight Stain Detector, and a free bonus Lint Roller that can quickly remove lint and pet hair.
Update: This offer has expired