Practice Like A Pro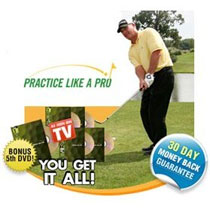 Improve your golf game with Practice Like A Pro. It gives you secrets and mental exercises used by professional golfers.
This system is the perfect for beginners or scratch golfers. You can learn to dramatically improve your short game and lower your score after just a few holes.
With Practice Like A Pro you get insights from some of the biggest names in golf. This includes Padraig Harrington, Tom Kite, Brad Faxton, Stewart Cink, David Toms, Dana Quigley and more.
Whether you want to improve your short game and swing, hit longer and more accurately, lower your score and boost their confidence, Practice Like A Pro can help. You'll learn to improve your grip, accuracy, power, mental focus and correct faults.
Get the Flash Player to see this player.
Practice Like A Pro comes with 4 DVDs. It includes Disc 1: Keys to the Short Game, Disc 2: The Scoring Clubs, Disc 3: Putting & 20 Minute Routine, Disc 4: A Conversation with Dr. Bob Rotella.
Order the Pratice Like A Pro system today for $69.95 plus shipping and handling. Plus you'll receive a free bonus 5th DVD and a Drills and Game Chart with your order.
Update: This offer has expired