Flies Away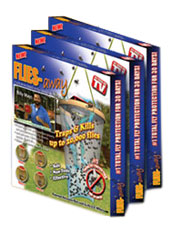 Flies Away is the ultimate green invention for fly prevention. You no longer have to worry about swatting or spraying again.
It uses  government tested bait and is guaranteed to keep your family, property and barbecue parties free from fly invasions.
The same formula is used by farmers, equestrians and  the United States Military to get rid of flies.
Flies Away will make your home a no fly zone and  is simple and easy to use. It is as easy as 1, 2, 3. Just add the bait, add and hang Flies Away outside.
Each Flies Away can traps kill up to 20,000 flies. You can easily dispose of it once you are done.
Get the Flash Player to see this player.
Normally a single Flies Away would cost $14.95 but right now there is a special buy 1 get 2 free offer. This means you can get 3 Flies Away for only $14.95 plus shipping and handling.
Update: This offer has expired