Fushigi In Motion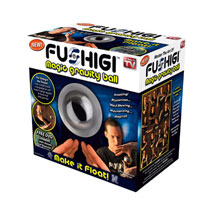 The Fushigi Ball has been sweeping the nation and introducing the art of contact juggling to many new fans everywhere.
The tricks performed with the Fushigi lets you mesmerize the mind and confuse the senses since it gives the illusion that the ball is moving or even floating by itself.
With Fushigi In Motion you merge contact juggling with different hot dance moves and create an endless amount of different and amazing routines.
People everywhere are incorporating their favorite form of dance and blending it with different tricks using the Fushigi Ball in order to add a whole new element to contact juggling.
Whether you like hip hop, traditional break dancing, or even classic styles, the Fushigi can be utilized as primary focal point to further your expression.
There are new illusions and routines been invented all the time and you too can do the same with the Fushigi. Discover your very own routines and you can create your own art form.
Get the Flash Player to see this player.
You can order the original chrome Fushigi Ball for just $19.99 plus the cost of shipping and handling. Or get the Glow In The Dark Fushigi Ball for $29.99 plus shipping.
A free tutorial DVD is included with each Fushigi that shows you the basics and how to master the different tricks and techniques.
Update: This offer has expired