EyeQ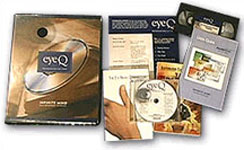 EyeQ from Infinite Mind is America's number 1 speed reading program. You can increase your reading speed 2 to 10 times.
In addition, it will improve your ability to process information faster than ever before.
This amazing interactive computer program will produce results with just 7 minutes of use a day.
In just 2 weeks you can double your reading speed. The program can also help improve concentration, focus, peripheral vision, hand-eye coordination, typing speed and more.
EyeQ is perfect for the entire family. Kids can do homework faster and perform better at school. Parents can improve their productivity at work.
Get the Flash Player to see this player.
The complete EyeQ Deluxe system retails for 3 payments of $83.33 but right now you can take advantage of a special 30-day free trial offer. It also comes with the bonus Test Taking Secrets CD.
It comes with 3 free gifts which includes 200 books on CD with "The Worlds 100 Greatest Books" and "The Worlds 100 Greatest People".  Plus you also get a free copy of the classic novel, The Time Machine by H. G. Wells.
These great gifts are your's to keep even if you decide to return the EyeQ Reading System.
Update: This offer has expired