netTalk Duo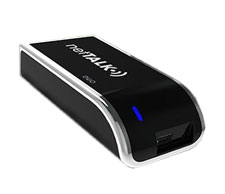 The netTalk Duo is revolutionizing phone service by letting you make and receive unlimited calls to anywhere in the US and Canada for one low annual fee.
You can say good bye to monthly phone bills and there are no contracts involved. The netTalk Duo is also an extremely affordable way to add a second line.
All you need is a high speed internet connection and a regular telephone to use the netTalk Duo service.
You simply connect the netTalk to an ethernet connection on your router or hook it up with a USB connection to your computer. With the newer netTalk Duo WiFi you can also connect wirelessly to a WiFi network.  Afterwords just plug in any traditional phone using a regular telephone cord.
Unlike similar products, the netTalk Duo is flexible enough to work when connected directly to your internet connection. So you don't have to leave your computer on all the time in order to receive or make calls.
You can make unlimited calls to United States and Canada for free. Plus netTalk also offers very affordable rates for international calls.
Get the Flash Player to see this player.
The netTalk Duo costs $49.95 with the first year of service included. It includes a free phone number, voicemail, call waiting, 411, 911, call blocking, call ID blocking, and other services.
Or get the netTalk Duo Wifi for $69.95 if you wish to connect to your Internet service through WiFi. The first year of service is also included free.