Wrinkle Terminator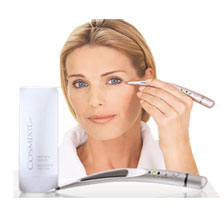 You can reduce the visible signs of aging instantly with the Wrinkle Terminator Anti-Aging System. Within one week it noticeably reduces facial lines while deep wrinkles start disappearing in 30 days.
The secret behind Wrinkle Terminator is a hi-tech wave technology. It helps  stimulate the skin to produce new collagen and elastin to restore your youthful appearance naturally.
When used in conjunction with the included Cosmixyl cream you'll have younger-looking, smoother, more supple, and more beautifully skin.
The Wrinkle Terminator device is powered by a Silicon Valley chip technology called Biomimetic "wave energy". It helps stimulate healthy blood flow and increased cellular oxygenation.
This is the same technology used in expensive spa treatments and with continued use, you'll see a reduction in eye puffiness, crow's feet, fine lines and wrinkles.
The advanced topical formula in Cosmixyl contains the powerful anti-aging ingredient, Matrixyl 3000. This clinically proven peptide promotes collagen production in the skin that will have you looking younger.
Get the Flash Player to see this player.
The Wrinkle Terminator system includes the Wrinkle Terminator device, a tube of Cosmixyl cream, and right now as a  special bonus you'll also receive 5 sets of Collagen Eye Pads.
You can order the Wrinkle Terminator Anti-Aging System for only 2 easy payments of $29.99 plus shipping and handling. It is comes with a 30-day money back guarantee.
Update: This offer has expired