Sudden Change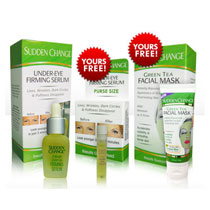 Look younger with the Sudden Change Under Eye Serum. It can help almost instantly reduce the appearance of wrinkles and bags which form under your eyes.
Sudden Change will visibly revitalize your tired out eyes. You'll immediately notice wrinkles, dark eye circles, and puffiness disappear when applied.
It works flawlessly with or without your foundation on. The skin around your eyes will be lifted, tightened and smoothed out. You can look younger in just 3 minutes.
All you have to do is just apply Sudden Change to clean, dry skin. Smooth two drops with your fingers under each eye from the inner to outer corner and you'll notice a difference in minutes.
When using with a foundation, place 2 drops of serum into the palm of your hand. Then add one dot of foundation and mix them together with your finger before applying.
A single application of Sudden Change will last for hours and last all day or night. It can be reapplied and refreshed when needed.
Get the Flash Player to see this player.
The Sudden Change Under Eye Serum sells for $19.99 plus shipping and handling. With this current offer you'll also receive 2 free bonus gifts with your order.
You'll get a handy purse size Sudden Change Under Eye Serum that you can take with you anywhere plus a Sudden Change Green Tea Facial Mask for absolutely free.