Panitrol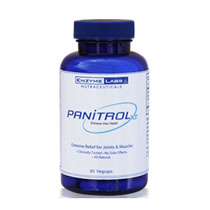 Get all natural pain relief from arthritis, joint pain and muscle aches with Panitrol XR Extreme Pain Relief.
It is new joint and muscle pain relief supplement that combines all natural herbs in order to block the transmission of pain signals.
The formula also reduces swelling of joints, inflammation and effectively blocks chronic pain receptors in the brain without disrupting the signals that warn you that a new injury has occurred.
Panitrol is completely natural and is not a drug. There are no negative side effects from taking it. It is works on both types of arthritis as well as pain caused by old sports injuries or accidents.
The herbal ingredients used in Panitrol includes Goldenrod, Dandelions, Meadowsweet, White Willow Bark and Juniper. They are all known for their ability at providing natural pain relief.
A clinical study conducted by Fenestra Research Labs proves the effectiveness of Panitrol. In the study 100% of the participants felt less pain or no pain at all after taking Panitrol for 2 weeks.
Get the Flash Player to see this player.
A 30-day supply of Panitrol XR Extreme Pain Relief sells for $59.97 plus shipping. Currently a trial offer is available were you can try Panitrol first for 15 day risk free. You just have to pay the shipping and handling cost of $3.95.
Update: This offer has expired