Lucidal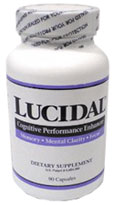 Lucidal is the revolutionary new formula that dramatically improves memory, mood, focus, concentration, and mental energy. 
The formula has been clinically tested and shown to sharpen mental focus, attention, and concentration. 
It will enhance thinking speed and clarity, alertness and mental energy. In addition it helps improve mood and reduces anxiety and feelings of sadness. 
Lucidal contains only natural and organic ingredients that are safe and free from side effects. 
The amazing formula in Lucidal was created by Dr. Larry McCleary, M.D, who is one of the top neurosurgeons in the world. 
Lucidal provides a complete and highly absorbable formula of micronutrients and antioxidants. They increase the clarity and speed of nerve signals in the brain. 
These nutrients allows the brain to function at its very best. They enhance the brain's neurotransmitter function resulting in better mental energy, memory, focus and concentration. 
Get the Flash Player to see this player.
Currently you take advantage of a special 30 day free trial offer Lucidal by just paying $9.95 for the cost of shipping and handling. 
Or you can take advantage of the buy 2 get 1 free offer and get 3 bottles of Lucidal for only $46.65 each plus shipping and handling. 
Both offers comes with a free Dr. McCleary CD set, which is a $20 value. 
Update: This offer has expired