Glucotrin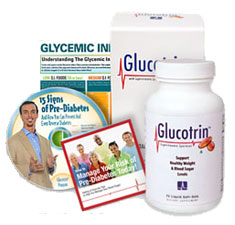 The Glucotrin system can help you minize your blood sugar levels, enhance energy and vitality, overcome the early signs of diabetes and more.
Over 50% of people over the age of 40 are at risk for diabetes and being overweight increases the risk. That is why it is important to have a healthy blood sugar level.
The Glucotrin system has been carefully assembled by the Blood Sugar Institute to support multiple dimensions of healthy blood sugar.
In the Glucotrin Dietary Supplement is an natural formula with key nutrients and herbal ingredients including Gymnema Sylvestre, which is known as the "sugar destroyer".
Other main ingredients used includes Perilla Oil, Banaba Leaf, Fenugreek, Gymnema Sylvestre and Cinnamomum Cassia. Together they work to help maintain healthy blood sugar.
Glucotrin is easy to take. It comes in easy to swallow and fast-absorbing liquid soft-gels.
Get the Flash Player to see this player.
In addition to the supplements you'll also receive the "15 Signs of Pre-Diabetes" audio CD, 2 (two) Glycemic Index Charts, a 50% Off Coupon for future purchase, and a free Health Breakthroughs Magazine.
Right now you can get 20% and order a 30-day supply of Glucotrin for just $59.95 plus shipping and handling.
Or you can take advantage of a buy 2 get 1 free offer and get a total 90-day supply of Glucotrin for $119.90 plus shipping and handling.