FlexProtex-D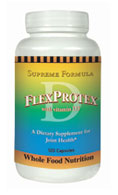 FlexProtex-D is the advanced and cutting edge natural joint support supplement that will help enhance joint health and flexibility.
The effective natural formula helps provide improved mobility and freedom from daily distress caused by joint pain.
With FlexProtex-D you can get all the benefits of joint lubrication, plus the benefits of Vitamin D combined in an easy to take capsule.
Ingredients used includes effective and all-natural cox-2 inhibitors. There is also Glucosamine, a vital building block of joint tissue as well as other connective tissue throughout the body.
Plus the formula contains Yucca root and Boswellin, which has used by Native Americans for hundreds of years for joint health and to treat joint discomfort.
Get the Flash Player to see this player.
 Normally a 30-day supply of Flex Protex-D costs $59.99 plus shipping and handling but right now you can save $10 and purchase it for only $49.99. You can also take advantage of a special buy 2 get 1 free offer and save even more.
Update: This offer has expired