Evercleanse Slim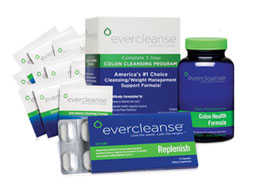 With Evercleanse Slim you can lose up to 200% more weight than with just diet and exercising alone.
The formula helps boost fat burning activity and the body's immune system.  In addition, it removes colon waste and harmful bacteria trapped inside the body.
The key ingredient used in Evercleanse Slim is 7-oxo-DHEA, which has been scientifically proven to significantly reduce body weight and fat.
The Evercleanse Slim Advantange package is a weight and detox solution in one. In addition to shedding pounds, it also helps removes toxic substances from the body, increases energy, and improves digestion and absorption of essential nutrients. 
The system includes Evercleanse Slim, the original Evercleanse Cleansing Formula, a Cleansing Accelerant, and a Replenishing Formula.
Get the Flash Player to see this player.
A 3 month supply of Evercleanse Slim Advantage normally costs $99.99 plus shipping and handling but right now it is only $69.99 through this special online offer. In addition, you'll receive a free bonus 10-day Colon Cleansing supply with your order.
Update: This offer has expired